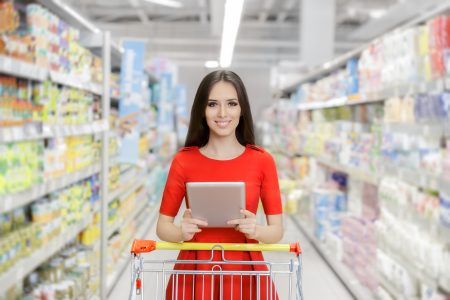 Customer Intelligence is data borrowed from client info gathered from both internal and external resources. The objective of CI is to understand clients better by assessing their purchasing patterns and their motivations for driving future business development. Along with depending on digital lenders for borrowing business finances online, the retail industry is also increasingly adopting intelligent automation technologies in order to reduce human error and boost customer experience.
The Age of Modern Retail Customers
This is the age of modern retail clients who can access data regarding a brand online, its offerings, and its competitors also. These clients are also less loyal ones. According to maximum retail clients, they would move retailers within a week of encountering poor client service. Demands of modern retail clients are raising high these days. In case they are not satisfied with a service or product, they will inform and will expect an instant response from you. If you are in the retail business, you must care about the unsatisfied, angry customers. So, how can a retail firm offer the best customer service? The best way is to follow Customer Intelligence which is truly revolutionizing the retail sector.
How CI Is Revolutionizing the Future of the Retail Industry
Understanding clients better
Data can be anonymously secured from electronic gadgets and assessed so the retailers can understand their clients' choices better. Whether a client is utilizing the site or visiting the store, anonymous data versions can be secured, transferred, and measured. If a retailer has more devices to secure data, he can borrow and act upon more data as well. Retailers can utilize this for making ideal client profiles and understand and predict their clients' behavior. This associated data will help enhance the location of physical store's product displays, boost the efficacy of campaigns and communications in high traffic locations and enhance point-of-purchase impact as well. A retail business can employ and handle employees with the use of real-time data so the shop is not overstaffed when not needed.
Also Read: Top 3 Trends That Are Changing The Face Of The Retail Industry In India

Offering customized discounts
Retailers can use CI and IoT to reward their frequently returning clients. They can do this utilizing sensor installed around the shop. These sensors send customized discounts to the smartphones of loyal clients when they are near some items. You need to ensure that the clients choose themselves for the client loyalty program. Retail owners can utilize their site for online-driven offline sales. They should track which items clients have been seeking online. Next time, when they visit the store, they can offer them customized discounts for those products. This is the best way to extend conversions instead of using a typical discount. How precisely you include all this into your retail firm relies on your prediction and creativity.
Getting clients into the store
These days, people always use their smartphone devices. And most of the time, their location, Wi-Fi, or data connection is turned on. This gives a scope to send custom promotions when they are close to the shop. By making interesting in-store experiences, retailers can attract clients to the store. If you have planned for a total transformation of your store, you must get a mobile POS system, an app, and smart mirrors for clients for sharing their buying history and wish lists with the store employees. Maximum small retail business owners hold themselves back from using this method citing financial issues not understanding that there are Retail Business Loans like Merchant Cash Advance scheme which can help them buy POS machines.
Understanding real-time changes in the market
Now, visualizing the market has become a daily challenging need for retail businesses. Hence, a small break in market monitoring can lead to massive difficulty in terms of getting new consumers, profits, and client satisfaction. CI offers actionable understandings from a constant dataflow. The client information helps you understand the latest market trends, and as a result, it helps retailers combine the best practices and predictive analytics into their business.
Also Read: Role Of Technology In Making Retail Stores More Meaningful In The eCommerce Age
Role of supply chain management
Since retail consumers are demanding exceptional quality items and quicker delivery, Customer Intelligence can optimize precision and speed using the supply chain. With the use of predictive analytics, retailers can anticipate what brands and items will be popular amid a specific time span. Each supply chain element, from planning to creation to return can be optimized for proficiency.
Identifying the right strategies for efficient sales
Every business survives on selling. Sales should be recognized by repeated business and not by short-term value. Many factors are responsible for the conversion of a returning client. Customer Intelligence can boost the sales team's productivity by organizing the sales procedure. Recognize what sales strategies work by assessing client feedback and information. Use of CI can help recognize the accurate methods to boost efficiency, lower wastage, and offer better training to staff.
Creating a well-informed persona
Every retail business must give importance to its consumers. Irrespective of different methods and promotions which clients are shown, they just pay heed to what resounds with them. Use info gathered from several sources to understand your clients better and create well-informed personas which speak to every kind of client. If you clearly understand your customers and their preferences, it becomes simpler to build a brand and corporate image which resonates with their choices. Combine these personas into your marketing tactics from whatever develops from your social media profile to your emails.
Conclusion
This is how Customer Intelligence is beneficial for a retail business. Whether you have an online or an offline shop, the future lies in offering great client experience only. Understanding CI can help retail businesses do this. For this reason, every retail business should invest in CI to give their business a perfect shape.