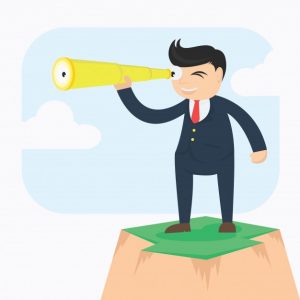 As Eleanor Roosevelt famously said, "Learn from the mistakes of others. You don't live long enough to make them all yourselves."
Competition is the backbone of any industry. Learning from the failures and successes of your competitors is a great way to boost the growth of your business, helping you save valuable resources, time and money.
Your competitors are likely to be at different stages in their business. Maybe, you launched your business in the last year, and they have been in the industry for over 60 years. Or maybe, you and your competitor entered the market at the same time. Whatever be the case, keeping an eye out on what your competitors are doing and picking a few ideas from them is a great way to race ahead of your peers.
Here are the top things that your competitors can teach you about business finance.
1. Scaling
Now, that you have your business rolling, the next step is to scale up. How to acquire and use funds to expand your business is an important question. Expansion requires plenty of research, and there's no margin for error. By observing your competitors, you can find out what worked for them and what didn't work. This sets you on the right path for expansion.
2. Managing Cash Flow
The success of all businesses depends on cash flow management. Additionally, you need to show positive cash flow for your business loan applications. Try to find out how your peers are managing cash flow and if they follow any best practices for it.
3. Brand Building
This one is easy to spot. Look at the methods your competitors are using to build their brands. Find out the channels they are using and identify whether it makes the right impact on your target audience.
4. Raising Working Capital and Funds
Regardless of the size and nature of the business, all businesses require capital. Keep an eye out on how your peers are raising money. The chances are that the methods they use are likely to work for you, especially when both of you are in the same industry and of similar size. For small business working capital loans, digital lenders like Indifi offer higher approval rates compared to traditional banks.
5. Emergency Fund
As a business owner, you need to stay prepared for unexpected expenses. The best way to do this is by setting aside an emergency fund. Try to find out if your competitors have set aside emergency funds or do they have lenders who are ready to lend them on short notice.
6. Business Budget
It's easy for businesses to overshoot their operational expenses. The best way to avoid this is by planning monthly operational budgets and sticking to it. Find out if your competitors are using any tools to help them with budgeting.
Read More: 5 Financial Practices That All Small Business Owners Should Do At The Beginning Of A New Fiscal.
7. Separating Personal and Business Expenses
Even savvy and experienced business owners have a hard time keeping their personal and business expenses separate. Try setting up a current account for your business that provides a debit card. Use this card for all your business expenses and don't dip into your personal savings.
8. Automating Payments and Invoices
Payments and invoices have become automated and are no longer manual. Several tools help you automate your regular payments and for handling client and vendor invoices. Check out if your competitors are using any specific tools for this purpose. And, if you enjoy a good rapport with your competition, you can even ask them to recommend you the best tools.
9. Planning Purchases and Hiring
Find out the number of staff employed by your competitors. Is it similar to yours? Check out how your competitors carry out recruiting and keep an eye on the suppliers they use. Get in touch with these suppliers to find out if they can offer you discounts similar to that they offer to your competitors.
10. Paying Bills on Time
If you have a habit of chronically delaying your payments, then it damages the reputation of your business. With that said, there's no denying the fact that all businesses struggle to pay bills on time. Try to find out if your competitors use other small business loan products like invoice discounting, merchant cash advance, line of credit and others to help them stay on top of their bill payments.
Watch, but Don't Copy
While it's necessary to keep an eye out on what your competitors are doing, you need to remember that what works for them, may not work for you. Find out the methods and practices used by your competition and then modify and feed that learning into your business, for better results.